Are you looking to speed up your WordPress site? Then you are in the right place. Today in this article, I am going to share a quick tutorial to optimize your WordPress website. So it can help you to improve your website's performance.
What is WordPress?
WordPress is the simplest and most popular way to make your own website or blog. In fact, WordPress powers over 35.5% of all the websites on the Internet. Yes – more than one in three websites that you visit are likely made by WordPress.
On a slightly more technically, WordPress is an open-source content management system(CMS) licensed under GPLv2, which means that anyone can use and modify the WordPress software for absolutely free. A CMS is basically a tool that makes it easy to manage a website – like content – without any knowledge of programming.
What you need to start?
You don't need to be a WordPress expert to speed up your WordPress site. You can play with a bunch of WordPress plugins and make your website super fast. You just need to follow this article and you are done with your website's optimization.
Recommended WordPress Hosting (Fastest)
Web hosting and server also plays a key role in website's speed so don't underestimate the power of a good web hosting and server. I am using FastComet WordPress hosting with SSD Storage from last 1 year. And I am very happy with it. The customer support of FastComet is unbelievable. If you are planning to host your website with FastComet then make sure to select proper nearer server location.
FastComet WordPress Hosting 
(70% OFF Sale)
Where you can test your Website's speed?
There are so many websites are available online to test your website. But GTMetrix is one of the best and powerful tool to test your website online. You can test and check your website's speed on GTMetrix, Google Pagespeed Insights, Pingdom. I listed some of the best testing tools below.
However each an every tool works differently and may show you a different result. So start working with only 1 testing tool to get your website optimized. I prefer GTMetrix to test my all websites. It shows you every problem with brief details. I added a screenshot for example.
Steps to Speed up your WordPress Website
STEP 1. Install WP Fastest Cache Plugin
It is a free and very popular cache plugin. You can setup this plugin as shown in the image below. It will improve your Site performance by making cache enabled for your website. There are some other options like Minify HTML, Minify CSS, Minify Js, GZip, Combine Js and Disable Emojis. You can enable them as well.
However, To enable other features you will need to buy the premium version of this plugin.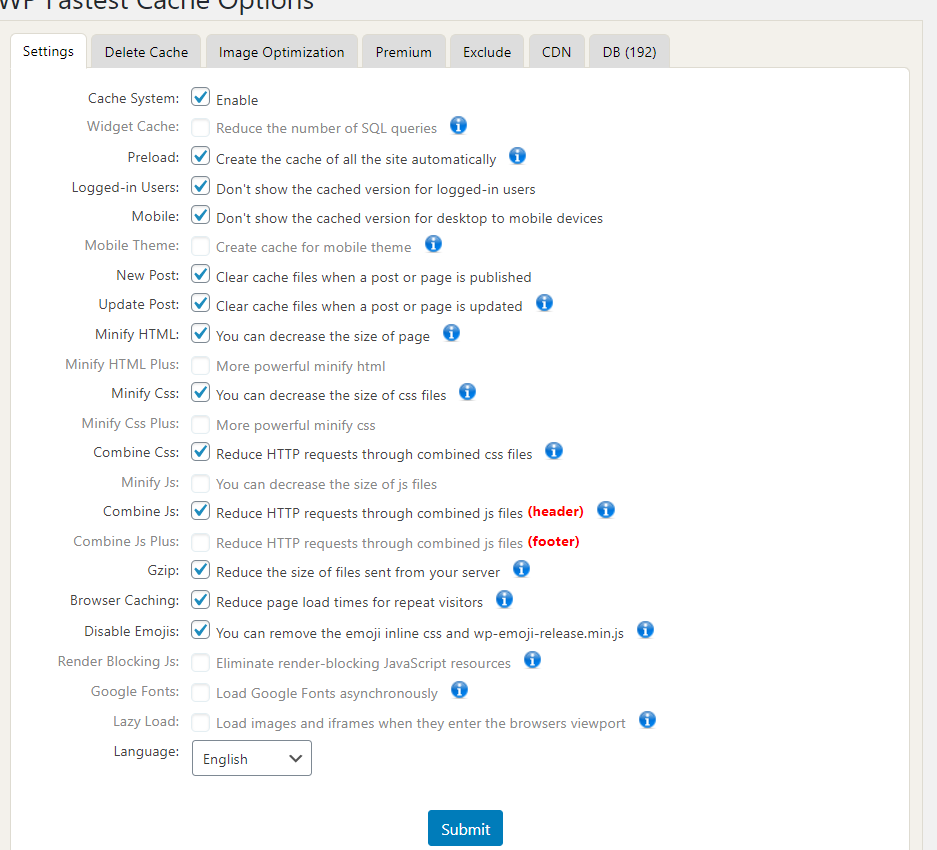 What is leverage browser caching?
Web Page load times can be significantly improved by asking visitors to save and reuse the files included in your website.
Reduces page load times for repeat visitors
Particularly effective on websites where users regularly re-visit the same areas of the website
Benefit-cost ratio: high
Access needed
STEP 2. Install "CAOS" plugin. It is used to optimize your Google Analytics code. To use it, You will need to remove the analytics code from that location where you already added. Because you will need to enter the analytics tracking id in this new plugin "CAOS" settings as shown in the image below.
STEP 3. Install "SMUSH" plugin. It is will help you to optimize the existing and new images within your website. You can optimize 50 Images at a time in free version and you will need to optimize next 50 images again. But in premium version you can optimize all the images at a time. It will speed up your WordPress site.
There are some other features like Lazy load and Resize scaled images. You can enable them to make it perfect.
STEP 4. Sometimes Lazy load doesn't work with "SMUSH" plugin. So you can try some other plugins to apply lazy load for Images and videos.
These plugins will speed up your WordPress site.
STEP 5.  How to Optimize Google Fonts?  If you are using google fonts within your website then there should be an external call for google fonts javascript online. So we are going to make it offline.
Install "OMGF" plugin to optimize google fonts within your website.  This plugin stores google fonts and serve them offline. It is going to help you to speed up your WordPress site.
You just need to write your google font name and click on search button. Then you can select your fonts with required styles and click on "Download Fonts" button. Then you can save the changes.
STEP 6. Fast Velocity Minify (Optional)
You can try this plugin to minify more your WordPress CSS, HTML and JS. It may improve your yslow score on GTMetrix.
STEP 7. Disable Cart Fragments by Optimocha (For WooCommerce only)
If you are using WooCommerce plugin then for sure it is taking an extra time in your site loading. So to disable it you can install this plugin and that's it. You should test your website once you install this plugin to see if everything is ok or not.
Optimize Images Manually
If you still have errors regarding Images on GTMetrix then you need to fix them manually one by one. To fix them you can follow these steps.
Check your GTMetrix report and see which images are making the problems. Download them on your computer.
Open ezgif.com and select your image. and make it optimized.
Now download the optimized image and replace it with older image on the site.
You can do the same for "Serve Scaled Images" error. Just resize the image.
video
Conclusion
This is how you can speed up your WordPress site within few hours. Even you can make the loading time under 1 second. Sometimes it depends on the server also. So hopefully you have optimized your WordPress site successfully.
Additional Tip
If you still have many problems with your WordPress site then you can buy my Fiverr Service with $10. I will speed up your WordPress site myself.